Vendor Information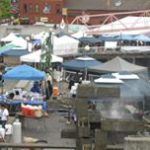 Notice:  Our Salmon Homecoming Celebration will be on Pier 62, north of the Seattle Aquarium. The street address is 1951 Alaskan Way, Seattle, WA 98101.
Vending Hours & Fees
Vending hours will be 10:00 AM to 9:00 PM on Saturday, 9/23/23.
Application & Payment Process
If you are interested, please fill out the Vendor Application and either mail it along with payment or send it via email to shcacoordinator@gmail.com and be prepared to pay upon arrival. We look forward to your participation in our celebration!
Check in, Space Assignment & Set Up
All vendors must check in at the Information Booth to receive a proof of payment voucher and space assignment. Our Event Coordinator will be available at the Information Booth on Saturday from 8:00 a.m. to 10:00 a.m.  All vendor booths must be set up before 10:00AM Saturday.  No space assignment will be given and no offloading will be allowed without proof of payment at the load and unload zone. As always, space assignment is on a first come, first serve basis.
Load/Unload Zone
The load and unload zone is located at the south end of the pier. Look for signage. Please find your place in line and be patient as we work to get you settled in.
Parking
We have included a list of the nearest parking lots and garages for your convenience or you can click on the link below for live parking availability.
http://downtownseattle.com/parking/index.html
Thank you!!
Any vendor-related questions can be directed to our Event Coordinator, Linda James-Laville at shcacoordinator@gmail.com.